2. 2. 2020
S lupou do historie: The Pacific
Pojďte se spolu s námi vrátit do dob minulých. Vydáváme se do seriálového nebe a oprašujeme legendy, na které se nyní díváme svěžíma očima! Jak by piloty úspěšných televizních legend obstály v dnešní době? Dali by jim vůbec diváci ještě šanci? A jak se na naše oblíbené či dokonce zamilované seriály po letech s odstupem díváme my? Lupa míří do historie se dvěma cíli. Vyvolat ve vás nostalgii a neodolatelnou touhu si svůj milovaný seriál opět pustit (protože víme, kolik máte času :'D), ale také vám potenciálně chceme rozšířit obzory a představit méně známé seriály, které jsou nyní po letech jako stvořené pro sledování maratonem!
Takže, SerialZoňáci, jak hodnotíte The Pacific (Pacifik) 1×01: Guadalcanal/Lec­kie?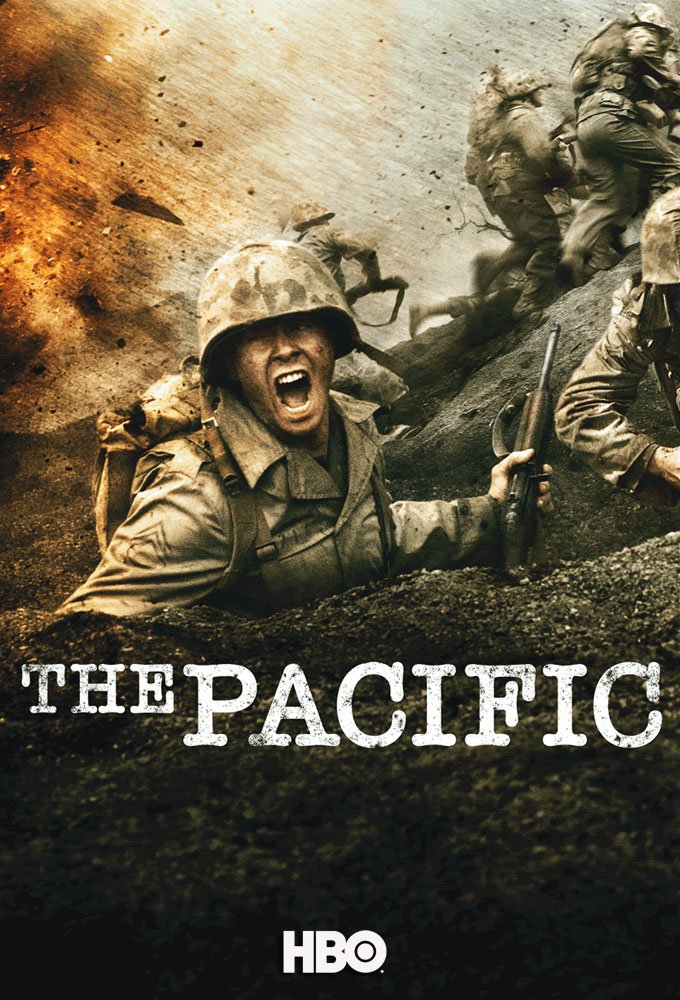 Základní údaje
| | |
| --- | --- |
| Název | The Pacific (Pacifik) |
| Žánr | Drama, Historický, Minisérie, Válečný |
| Stanice | HBO |
| Vysílání | 2010 |
| Počet sérií | 1 |
| Premiéra | 14. 3. 2010 |
| Délka pilotu | 53 minut |
O čem to je?
Je po 7. prosinci 1941, Spojenými státy otřásl útok na základnu Pearl Harboru. Tři američtí mariňáci Robert Leckie, Eugene Sledge a John Basilone projdou těžkými boji v celém Pacifiku – od prvního střetnutí s Japonci v džunglích Guadalcanalu přes Cape Gloucester, Peleliu, Iwo Jimu až po krvavé pláně Okinawy a nejednoduchý návrat domů.
A jaký je náš ortel?
Status: první setkání se seriálem
Hodnocení celého seriálu: –
Co je toto za týden, nejdřív vězení, teď válka, asi je čas vystoupit z komfortní seriálové zóny. Každopádně neholduju moc ani válečným filmům nebo obecně válce, takže dnes to bude opravdu novinka a vůbec netuším, co vám tu napíšu.
Na začátku jsem měl obavu, že to bude ten typ dokuseriálu, kdy jsou serializované příběhy prokládány názory odborníků a v tomto případě přeživších, to by bylo fakt terno a asi poprvé v lupě, ale nebylo tomu tak. Díl se dal odsledovat celkem bez problému. První půlka byla taková méně válečná, byla tu rodinná dějová linka, bezmoc taky částečně kvůli rodině a celkově to bylo více o emocích a příbězích vojáků mimo boj. Druhá část už byla ta válečná, ale za mě tedy nic moc nepřinesla. Střelba na pro diváka neviditelný terč, neustálé přesuny, já vím, že to není na žádné zdlouhavé půlhodinové boje, ale i tak, chvílemi to bylo takové nijaké.
Obsazení není špatné, ale osobně jsem u některých herců nenašel žádné znamení, kterého bych se chytl, takže když byly postupně oznamovány smrti, vůbec netuším, o koho šlo. Na druhou stranu je příšerné, když si člověk uvědomí, že postavy a jejich osudy jsou skutečné. Skuteční lidé, kteří skutečně umírali, takže zase tady si tvůrci nemůžou moc vyskakovat.
Nemůžu zhodnotit, co může seriál nabídnout oproti konkurenčním snímkům stejného žánru, takže asi jen takové malé shrnutí. Pilot uteče, neurazí, ale zároveň tomu něco chybí, přijde mi, že proti první půlce se ve zbytku epizody naprosto vypařily emoce, kromě záměrného napasování na fotku a dopis. Úvodní titulky jsou poutavé, tvůrci se s nimi vyhráli, takže do jisté míry i ty navnadí ke sledování. I přesto, že se jedná o uzavřenou sérii, nehodlám sledovat dál, ne vysloveně kvůli tomu, že to není můj šálek čaje, ale dost tomu přispívá i ta reálnost a fakt, že to není rozhodně lehké téma.
úvodní titulky
reálnost
absence emocí ve druhé polovině
nezáživný boj
Status: první setkání se seriálem
Hodnocení celého seriálu: –
Tématice druhé světové války jsem nikdy nijak neholdoval. Poslední dobou ale narážím na velmi zajímavé filmové/seriálové kousky a právě Pacifik patří mezi ně. Z herců jsem poznal oba Jony, jak Jona Sedu, tak i Jona Bernthala. V pilotu je mnoho postav, které ani nemůžeme stihnout poznat, což se mi u válečných děl docela i líbí, protože nám to ukazuje, že se jedná pouze o řadové vojáky a ne každý je Rambo.
Velmi se mi také líbilo budování napětí, kdy člověk vlastně ani neví, kdy a jestli vůbec dojde k nějakému střetu. Po nějaké době jsem dokonce začal pochybovat, že k nějaké konfrontaci v pilotu vůbec dojde. Nakonec jsem se jí však dočkal. Pilot nám následně názorně ukázal krutosti války, kterých jsou schopny obě zúčastněné strany, nejen ta záporná. Teď už mi zbývá si pouze najít čas, kdy dokoukat zbylých devět epizod.
anonymnost války
budování napětí
minisérie
Autor si zatím nevyplnil svoje mikrobio.
Vypadá to super hezké přehledné, moc se mi to líbí. Jinak ještě že se první odstavec hned na začátku...
před 42 týdny
The Pacific sice v mých očích za Band of Brothers trochu pokulhával, ale možná to bude tím, že BoB jsem...
před 42 týdny
Svoje kvality to bezesporu má, seriál to je dobrej. Jenom dle mýho názoru trochu pokulhává za Band of...
před 42 týdny